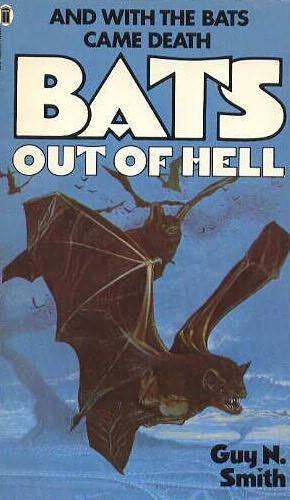 Bats out of Hell by Guy N. Smith
Death is peeking from between the clouds
I'm thirty years old as of last month and I have been reading Guy N. Smith since I was fourteen or so (my father lives in Poland and has a huge library full of good horror, stuff from the 80's and beyond which I would read each summer vacation as I went back from NY) so I'm no stranger to his world but this wasn't his strongest, by all means read and enjoy but don't think that this is all he can pull, as a teen when I'd go on vacation to Europe I remember bringing his books on fishing trips and loosing the rods in the water, I would go into a trance and just want to read and read, he has some amazing books out there and this is just another one of his creations, not great but readable for the sheer enjoyment of lite horror.
This can probably be read in one sitting which is very gratifying; you really get to spend time with the story when you can devote almost unlimited time for the absorption and enjoyment. Smith isn't afraid to write to his hearts delight, I can see a passion in his stories, and he reaches some really gruesome and far out there topics and makes them shine in a delicious little scary novel, whether its genetically mutated monsters, zombies, woods with creatures that you'd be wise to omit or mummies and devil worshipers he can spin a tale with anything and make it great.
Bats is a story about bats, well not ordinary little cuties that seem to scare so many but about a failed experiment that happened under professor Brian Newman, his cure for meningitis has failed and in result created a group of quite weird baths who seem to be out for blood in the most horrible and violent temper, of course there's an accident and they get out, what else can happen, the speedy telling of the story doesn't leave much time for character development and you pretty much end up caring about the doctor and his two women who he seems to be playing, biggest surprise from the book considering he was such a geek. This reads more like a movie than a serious book, bad things happen and a lot of people die in some very nasty ways, too bad it's hard to care about most of them since not enough time is given to flesh them out. This was a decent read as it was very fast, its not something that takes a week, so it's redeemable in that sense but nothing that will shake the reader the core, just some icky fun with words that's perfect for a lazy weekend.
- Kasia S.
Novels
The Slime Beast
(1975)
The Ghoul
(1976)
Bamboo Guerillas
(1977)
Bats Out of Hell
(1978)
Locusts
(1979)
Caracal
(1980)
Satan's Snowdrop
(1980)
Doomflight
(1981)
Manitou Doll
(1981)
Warhead
(1981)
Entombed
(1981)
Wolfcurse
(1981)
The Pluto Pact
(1982)
The Lurkers
(1982)
Blood Circuit
(1983)
The Undead
(1983)
Accursed
(1983)
Throwback
(1985)
The Wood
(1985)
Abomination
(1986)
Snakes
(1986)
Cannibals
(1986)
The Neophyte
(1986)
Alligators
(1987)
Bloodshow
(1987)
The Island
(1988)
The Master
(1988)
Fiend
(1988)
Cornharrow
(1988)
(writing as Jonathan Guy)
The Camp
(1989)
The Festering
(1989)
Mania
(1989)
Phobia
(1990)
The Unseen
(1990)
Carnivore
(1990)
The Resurrected
(1991)
Badger Island
(1993)
(writing as Jonathan Guy)
Witch Spell
(1993)
The Plague Chronicles
(1993)
Rak: The story of an urban fox
(1994)
(writing as Jonathan Guy)
The Hangman
(1994)
(writing as Gavin Newman)
The Dark One
(1995)
Dead End
(1996)
Hawkwood
(1996)
(writing as Jonathan Guy)
The Pony Riders
(1997)
Water Rites
(1997)
The Busker
(1998)
Deadbeat
(2003)
Blackout
(2006)
The Cadaver
(2007)
Maneater
(2009)
Aren't these cover great? They make me want to read the second I see them!